D103 Micro Rotary Football Diamond Hole Drill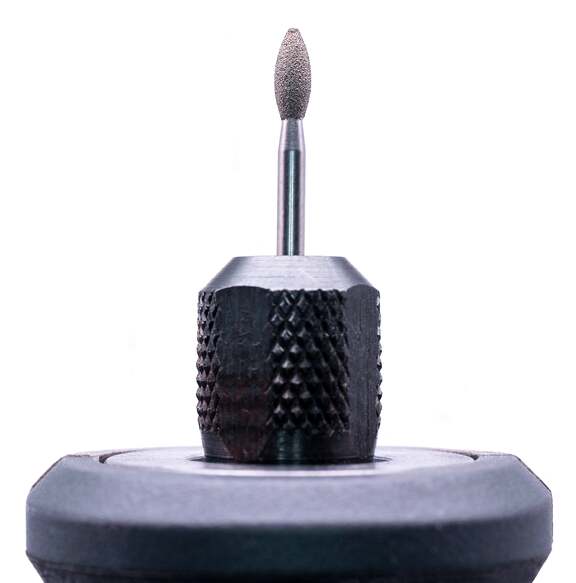 The D103 Micro Rotary Football tip is great for drilling or shaping small details or features. This tip can be used to erase tiny pottery imperfections or to grind small accents. It must constantly be used with water to avoid damage to the bit. For creating small, rounded contours, the DiamondCore® Micro Rotary Football Drill is a big win!
DESCRIPTION:
Diamond Grit for shaping 

2 mm (dia.) x 5 mm, football end shape

1.6 mm diameter shaft 
USES:
Erasing imperfections, grinding small accents 

Cleaning up or refining small parts of bisque or high-fired ceramics

Removing sharp edges

Cleanup of bisque spots
BENEFITS:
Works on ceramic, tile, stone, or glass

Rapid removal of unwanted material

Long lifespan if used properly

Controls dust when used with water
CAUTIONS:
Follow all safety precautions

Always wear safety goggles

Always use with water to 

extend tool life and control dust

Must be constantly used with water to avoid overheating

Use a cordless rotary tool to avoid water mixing with electricity

While drilling, ream out the hole first to prevent jamming

Be sure to clean and remove all debris

Do not attempt to force or pry with this tool

Keep out of the reach of children
Technique note: To increase the tool's longevity, use water, high speed, and gentle pressure.  
RELATED SETS:
RELATED PRODUCTS: