D102 Micro Rotary Flat End Taper Diamond Hole Drill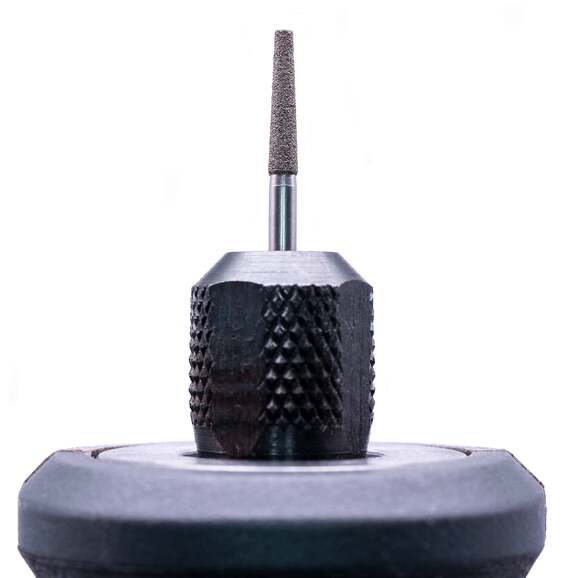 The D102 Micro Rotary Flat End Taper tip is essential for drilling or cleaning out very small holes. It's perfect for drilling new holes in jewelry or creating little details in other projects. It must constantly be used with water to avoid damage to the bit. This DiamondCore® tool will make a huge difference when you need to make any small opening.
DESCRIPTION
Diamond Grit hole drill

1 mm  (dia.) x 8 mm, flat end taper shape

1.6 mm diameter shaft
USES
Clearing out or drilling small holes in bisque or high-fired ceramics

Removing sharp edges

Cleanup of bisque spots

Ream out an existing hole to make it larger
BENEFITS
Works on ceramic, tile, stone, or glass

Rapid removal of unwanted material

Long lifespan if used properly

Controls dust when used with water
CAUTIONS
Follow all safety precautions

Always wear safety goggles

Always use with water to 

extend tool life and control dust

Must be constantly used with water to avoid overheating

Use a cordless rotary tool to avoid water mixing with electricity

While drilling, ream out the hole first to prevent jamming

Be sure to clean and remove all debris

Do not attempt to force or pry with this tool

Keep out of the reach of children
Technique note: To increase the tool's longevity, use water, high speed, and gentle pressure.  
RELATED SETS
RELATED PRODUCTS
Perfect for my mistakes
I bought this tiny drill head because I had a piece I made with about 60 ish holes, and 13 were glazed closed. It worked exactly as I needed it to. The only issue I had was that it is a VERY small thin diameter and my Dremel chuck was a little bigger. I eventually squeezed it to hold. I can't afford to buy a new Dremel so I just tightened it way too far….. but I saved my piece. Bottom line, I was very happy with he drill bit.