D101 Micro Rotary Round End Taper Diamond Hole Drill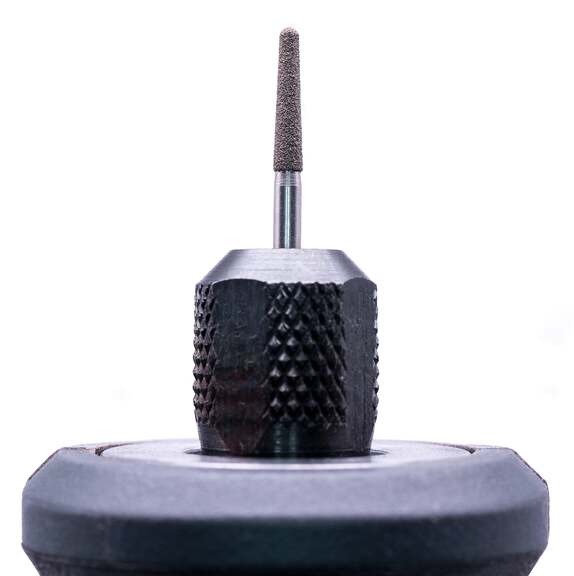 The D101 Micro Rotary Round End Taper tip is essential for drilling or cleaning out very small holes. This rotary diamond tip is perfect for refining salt shakers or colanders, where the glaze has filled in an existing hole. It must constantly be used with water to avoid damage to the bit. Make your culinary pieces flow with holes created with our DiamondCore® rotary tip. 
DESCRIPTION
Diamond grit Hole Drill

1 mm (dia) x 8 mm, round end taper shape

1.6 mm diameter shaft
USES
Clearing out or drilling small holes in bisque or high-fired ceramics

Removing sharp edges

Cleanup of bisque spots

Ream out an existing hole to make it larger
BENEFITS
Works on ceramic, tile, stone, or glass

Rapid removal of unwanted material

Long lifespan if used properly

Controls dust when used with water
CAUTIONS
Follow all safety precautions

Always wear safety goggles

Always use with water to 

extend tool life and control dust

Must be constantly used with water to avoid overheating

Use a cordless rotary tool to avoid water mixing with electricity

While drilling, ream out the hole first to prevent jamming

Be sure to clean and remove all debris

Do not attempt to force or pry with this tool

Keep out of the reach of children
Technique note: To increase the tool's longevity, use water, high speed, and gentle pressure. 
RELATED SETS
RELATED PRODUCTS